I'm doing Customised Laminated Wallet Cards (6cm by 8cm)
1 for $1.00 AUD
9 for $7.00 AUD
every subsequent card after 9 will be 30% off
LOCAL AU Postage is $0.50 AUD
AIR MAIL Postage is $2.00 AUD
Click here to go to currency converter
All items are made in Australia using Earth-Friendly Paper, thick backing and laminated in plastic.
All I need are images provided by you which are of decent quality
an optimum size would be 3 times of the actual size of the wallet card
or you can give me an image and I'll resize it for you and show it to you. If you are happy with the resizing then I'll print.
I can also do double sided cards or images smaller than a wallet card or larger than a wallet card (max size A4)
*pricing varies*
Please kindly be reminded that due to screen resolution and brightness all images may not be as they seem after printing.Therefore I will not be responsible for anything such as "I thought it would be brighter/darker"
SAMPLE WALLET CARDS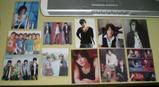 click on thumbnail to see larger image
Payment Accepted
Concealled Cash at buyer's own risk AUD ONLY(registered mail is advised)


Paypal(in AUD)


Bank Deposit(Singapore and Australia ONLY)


International Bank Deposit, all bank charges to be paid by buyer, PAY IN AUD only.


Meet Up in Australia - Victoria state, Melbourne City or Caulfield Station ONLY




How to Order Your Own Customised Wallet Cards
follow the format below and I will contact you ASAP.


email me at nuriko.kc.sells@gmail.com for enquiries
Image hosting sites : http://www.imageshack.us
or zip/rar files uploaded to http://www.MegaUpload.com

all colours may not be as they seem due to difference in screen resolution and brightness.
My Feedback in EBAY | My Feedback outside of EBAY | Other Seller's Adverts